DELL EqualLogic PS4110E Storage Array Network (SAN)
Merk: DELL
Model: PS4110E
Jelaga Part No. SKU0000252063
In Stock
12 x 2TB 7.2K NL SAS Hard Drives, 24TB Capacity, 2U Versa Rail, Automatic spare configuration and utilization, SMART, Automatic bad block replacement
Enterprise power with everyday simplicity
Enhance your small or midsize business with the EqualLogic PS4110E iSCSI array — powerful performance, 10GbE connectivity and easy, flexible management.

Enterprise features for smaller deployments
Ideal for your growing storage needs, the PS4110E 10GbE iSCSI array is a high-capacity Dell™ Storage solution that offers a virtualized architecture, enterprise software and easy administration at an affordable price.
Leverage your existing infrastructure with 10GbE SFP+ or build out your network with new, cost-effective 10GBASE-T (both supported).
Implement EqualLogic's first 10GbE storage array right-sized and right-priced for small and midsized businesses.
Use the EqualLogic™ virtualized scale-out architecture for server consolidation and virtualization.
Integrate full snapshot, replication and application integration for data protection and disaster recovery.
Cut management time and costs with self-optimizing performance and automation.
Manage your entire EqualLogic™ SAN, including PS4110 remote-site arrays, with EqualLogic™ SAN Headquarters (SANHQ).
Easily grow your EqualLogic™ SAN by adding other PS Series arrays to scale capacity and performance.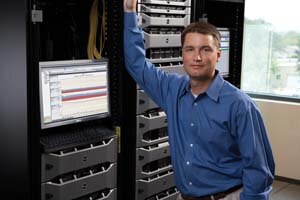 Economical and flexible
Build capacity for your data center with versatile PS4110E arrays, 12 nearline Serial Attached SCSI (NL-SAS) 3.5" drives and up to 36TB of capacity, the PS4110E has the lowest cost per terabyte in the PS4110 line and features:
Dual 10GbE controllers and dual power supplies designed for built-in redundancy
Dedicated 10/100 management port for each controller
6G SAS backplane
12 NL-SAS, 7.2K hot-swappable drives
Cache-to-flash memory destaging
Peer-scaling architecture that scales performance linearly
Vertical Port Sharing, designed to enable you to maintain full bandwidth if a networking port fails
Group Manager, which integrates all management into one console for both file and block storage protocols
EqualLogic Host Software that extends the functionality of the array-based software to enable cooperation with the host
Host Integration Tools for Microsoft®, VMware® and Linux® products as well as EqualLogic SANHQ management software
General
Raid Controllers
RAID 5, RAID 6, RAID 10, and RAID 50
Harddrive
24TB (12x 2TB) 7.2K NL SAS Hard Drives
Jaringan
10GbE Network Interfaces: Management network: One 100BASE-TX dedicated management port per controller Interface ports: One 10GBASE-T with RJ45 and one 10GbE SFP+ for fibre or twin-ax copper cabling per controller
Fitur
Automatic spare configuration and utilization, SMART, Automatic bad block replacement, Auto-Stat Disk Monitoring System (ADMS) to monitor health of data on disk drives
Security
CHAP authentication, Access control for iSCSI, Access control for management interfaces including RADIUS support
Slot Provided
Hard Disk Drives: Twelve (12) 7.2K NL-SAS hot-pluggable hard drives, Drive Capacities: 3.5" 7.2K RPM NL-SAS drives available in 1TB, 2TB or 3TB, System Capacities: 12TB using twelve (12) 1TB NL-SAS disk drives, 24TB using twelve (12) 2TB NL-SAS disk drives, 36TB using twelve (12) 3TB NL-SAS disk drives
Power Supply
100-240 VAC ±10% single phase 700 W (max, total), +5V up to 155W; +12V up to 624W; +5Vsb up to 10W
Controller
Dual controllers with 4GB non-volatile memory per controller
Temperatur
Temperature range: 5° to 40°C (41° to 104°F), Storage temperature: –40° to 65°C (–40° to 149°F)
Software
OS Compatibility
Microsoft® Windows Server® including Hyper-V®, VMware® ESX Server™, Red Hat® Enterprise Linux® (RHEL), SUSE® Enterprise Linux® (SLES), Oracle® Linux, Oracle® Solaris™, IBM® AIX®, HP-UX, Mac OS® X, Citrix® XenServer®, Novell® NetWare®
Management
System Management
SAN Headquarters multi-group performance and event monitoring tool, Serial console, Ability to configure a separate management network, SNMP, telnet, SSH, HTTP, Web (SSL), host scripting, Multi-administrator support
Product
Dimension
44.63 x 8.68 x 59.4 cm (W x H x D)
Garansi
5-Years ProSupport Plus: Next Business Day Onsite Service
Rack Support
ReadyRails™ II static rails for tool-less mounting in 4-post racks with square or unthreaded round holes or tooled mounting in 4-post threaded-hole racks
Write a review for DELL EqualLogic PS4110E Storage Array Network (SAN)
Note: HTML is not translated!
Rating: Bad Good
Enter the code in the box below: